Why Fathers Cry
Ep. 102: "Instructions for Leaving" with Anis Mojgani
WHY FATHERS CRY Podcast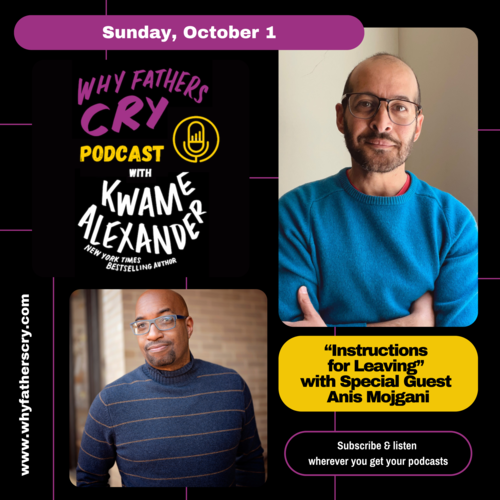 No one knows love quite like poets, and when you bring two acclaimed versifiers together for a raw and deeply personal discussion on the topic, the result is heart-opening and heart-mending magic. In the latest episode of Why Fathers Cry, Kwame Alexander goes all in on the woes and wonders of romantic relationships with Anis Mojgani, current Poet Laureate of Oregon, two-time individual champion of the National Poetry Slam, and winner of the International World Cup Poetry Slam.
The author of six books of poetry, including his latest collection, The Tigers They Let Me, (Write Bloody, June 2023), Anis' work has also appeared on HBO, National Public Radio, and in the pages of The New York Times, among other places. He is well-known and highly regarded for his performances at hundreds of universities across the U.S. and festivals around the globe.

Join Kwame and Anis for the poet's perspective on navigating the beginning, middle, and end of coupling, including marriage and divorce, and why we're prone to glean our definitions of how we love and want to be loved from our own upbringing.
Subscribe and listen, wherever you get your podcasts.
Special thanks to our sponsors Brain Lair Books (brainlairbooks.com), Kirk & Kirk Eyewear (kirkandkirk.com), and Sleeping Bear Press (sleepingbearpress.com).
Produced for Big Sea Entertainment by Sarah Grace McCandless. Studio audio engineering by Edgar Diaz. Post-production by Jeremy Brieske at Burst Marketing. Theme music, "Saint State Street," composed by Joshua Gabriel and Bryant Terry.