Why Fathers Cry
Ep. 106: "Why Fathers Cry" with Dr. E. Curtis Alexander
WHY FATHERS CRY Podcast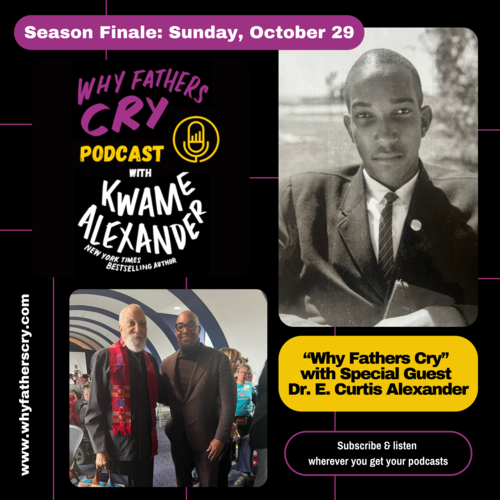 As the first season of Why Fathers Cry comes to a close, Kwame Alexander brings it full circle in this pinnacle conversation with someone who has come up in every single episode, and throughout the memoir that inspired the series: his own father, Dr. E. Curtis Alexander.
The ultimate renaissance man, Dr. Alexander's impressive repertoire includes book publisher, author, and much, much more. Join us for this an endearing, insightful exploration of what it means to give love, show love, and receive love, in a head-to-head and heart-to-heart with the very man who inspired Kwame's own purpose and path today.
Subscribe and listen, wherever you get your podcasts.
Special thanks to our sponsors Brain Lair Books (brainlairbooks.com), Kirk & Kirk Eyewear (kirkandkirk.com), and Sleeping Bear Press (sleepingbearpress.com).


Produced for Big Sea Entertainment by Sarah Grace McCandless. Post-production by Jeremy Brieske at Burst Marketing. Theme music, "Saint State Street," composed by Joshua Gabriel and Bryant Terry.