Why Fathers Cry
"The Gospel Truth" with Bryant Terry
Ep. 101: WHY FATHERS CRY Podcast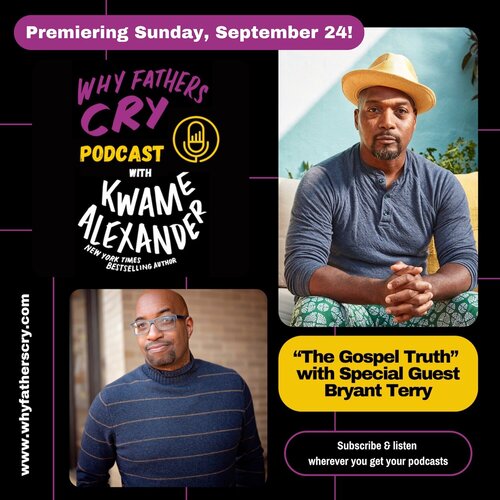 How do our origins and upbringing impact the way we approach parenting? In the premiere episode of Why Fathers Cry, Kwame Alexander explores this question and more with Bryant Terry, a James Beard award-winning educator, author, artist, publisher, and, like, Kwame, father of two daughters.
As someone celebrated by San Francisco Magazine as one of the 11 Smartest People in the Bay Area Food Scene as well as Fast Company's 9 People Who Are Changing the Future of Food, Bryant knows his way around the kitchen. He also knows that what we create and serve on the table has a purpose that goes far beyond any technical expertise. Join Kwame and Bryant in an intimate conversation about what they learned from their own parents and grandparents, how it shows up for them as fathers today, and how the bread we make and break together builds community and connects us with each other.

Subscribe and listen, wherever you get your podcasts.
Special thanks to our sponsors Brain Lair Books (brainlairbooks.com) and Kirk & Kirk Eyewear (kirkandkirk.com)
Produced for Big Sea Entertainment by Sarah Grace McCandless. Studio audio engineering by Edgar Diaz. Post-production by Jeremy Brieske at Burst Marketing. Theme music, "Saint State Street," composed by Joshua Gabriel and Bryant Terry.