Why Fathers Cry
Ep. 104: "Portrait of Newlyweds: 1967" with Jonathan Eig
WHY FATHERS CRY Podcast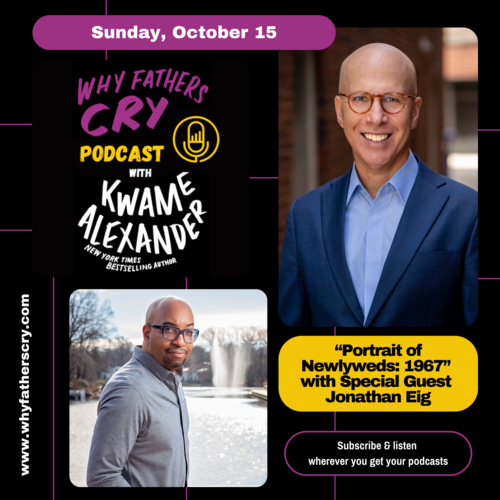 Photos feed memories, but our literal and figurative snapshots from seminal childhood moments often informs how we later show up as parents, as partners… as people. In the latest episode of Why Fathers Cry, Kwame Alexander explores this notion with Jonathan Eig, bestselling author of six books, including his most recent King: A Life.
Hailed by The New York Times as a "monumental" new biography of Martin Luther King Jr., King: A Life was also nominated for the National Book Award, featured as a Barack Obama Summer 2023 read, and recently optioned for the screen by Chris Rock and Steven Spielberg.
Acclaimed as a "master storyteller" by filmmaker Ken Burns, Jonathan is a world renowned journalist and biographer, and a true expert when it comes to researching our past to understand our present. Join us as Kwame and Jonathan look at their own histories as sons, the perceptions that were formed, and how the truths they know now help them navigate the world as fathers themselves.
Subscribe and listen, wherever you get your podcasts.
Special thanks to our sponsors Brain Lair Books (brainlairbooks.com), Kirk & Kirk Eyewear (kirkandkirk.com), and Sleeping Bear Press (sleepingbearpress.com).


Produced for Big Sea Entertainment by Sarah Grace McCandless. Studio audio engineering by Edgar Diaz. Post-production by Jeremy Brieske at Burst Marketing. Theme music, "Saint State Street," composed by Joshua Gabriel and Bryant Terry.