Why Fathers Cry
Ep. 105: "How We Made You" with W. Kamau Bell
WHY FATHERS CRY Podcast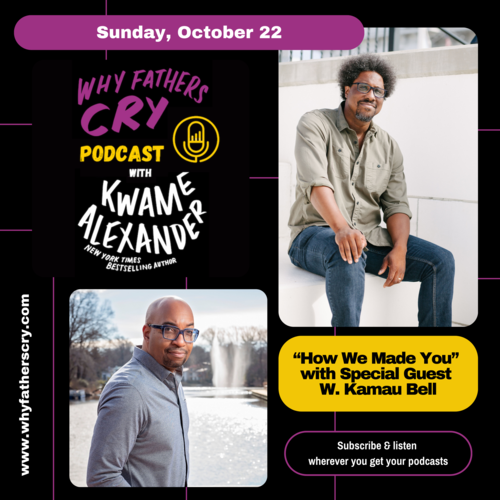 In this special episode of Why Fathers Cry, Kwame Alexander bears all with filmmaker, comedian, and New York Times bestselling author W. Kamau Bell, in front of a live audience in Berkeley, California. With a deeper dive into the stories behind the stories shared in Kwame's memoir, one poignant question leaves him speechless.
W. Kamau Bell is a virtuoso in the art of fostering meaningful and memorable discussions. His incredible body of work includes serving as executive producer and director of the award-winning Showtime docu-series, We Need To Talk About Cosby; hosting and executive producing the Emmy Award-winning CNN docu-series, United Shades of America with W. Kamau Bell; and most recently, executive producing and directing the critically-acclaimed HBO documentary, 1000% Me: Growing Up Mixed.
Join us for a no holds barred conversation as Kamau and Kwame reveal with both humor and heart some of their most vulnerable moments as fathers of daughters, as partners, and as sons, exploring how we can give more grace to those we love.
Subscribe and listen, wherever you get your podcasts.
Special thanks to our sponsors Brain Lair Books (brainlairbooks.com), Kirk & Kirk Eyewear (kirkandkirk.com), and Sleeping Bear Press (sleepingbearpress.com).


Produced for Big Sea Entertainment by Sarah Grace McCandless. Studio audio engineering by Edgar Diaz. Post-production by Jeremy Brieske at Burst Marketing. Theme music, "Saint State Street," composed by Joshua Gabriel and Bryant Terry.