Why Fathers Cry
WHY FATHERS CRY Podcast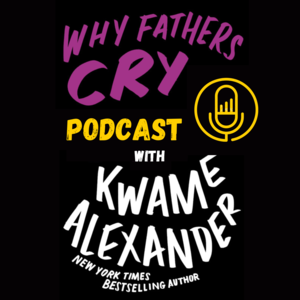 Snapshots of a man
learning how to love,
one conversation at a time.
Premiering Sunday, September 24, 2023!
Hosted by #1 New York Times best-selling author Kwame Alexander, Why Fathers Cry explores lessons we've learned - and unlearned - and the ones we are still learning. Stories about longing, love, and loss. Journeys guided by faith and forgiveness - of others, yes, but also of SELF - past, present, and future. Aspects of fatherhood from a multitude of perspectives. And how getting vulnerable and getting real is the connective tissue that binds us together, gives us strength, defines our purpose, and feeds our soul.

Featuring intimate conversations anchored in poetry, with guests including James Beard Award-winning educator and author Bryant Terry, Oregon Poet Laureate Anis Mojgani, and more. Inspired by Kwame Alexander's memoir, Why Fathers Cry at Night (May 2023, Little, Brown and Company).

Subscribe and listen, wherever you get your podcasts.

Special thanks to our sponsors Brain Lair Books (brainlairbooks.com) and Kirk & Kirk Eyewear (kirkandkirk.com).

Produced for Big Sea Entertainment by Sarah Grace McCandless. Studio audio engineering by Edgar Diaz. Post-production by Jeremy Brieske at Burst Marketing. Theme music, "Saint State Street," composed by Joshua Gabriel and Bryant Terry.