Why Fathers Cry
Ep. 103: "Portrait of a Mother & Son" with John Haynes III
WHY FATHERS CRY Podcast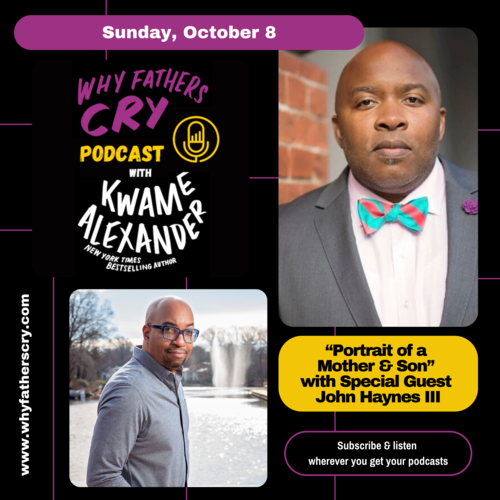 Grief takes permanent residency in our hearts. A houseguest that never leaves. In the latest episode of Why Fathers Cry, Kwame Alexander goes deep on the experience of losing his own mother, in a candid conversation with his longtime advisor and dear friend John Haynes III… who also knows this specific type of loss firsthand.
As a leader of leaders and visionary to visionaries, John is a master in the art of understanding people. With over 25 years of Human Resources expertise in global enterprises, including his current role as Vice President HR Business Partner for Cardinal Health, John also honors his calling by serving as a life coach for emerging, established, and evolutionary leaders. He has acted as a career advisor for presidential appointees of the Obama administration, as well as a workshop facilitator, team builder, and strategic planner for numerous non-profit, commercial, and faith-based organizations.
Join Kwame and John as they unpack learning to be fathers first by being sons, how we live with the exquisite pain of grief, and the profound moments of beauty that come with the process.
Subscribe and listen, wherever you get your podcasts.
Special thanks to our sponsors Brain Lair Books (brainlairbooks.com), Kirk & Kirk Eyewear (kirkandkirk.com), and Sleeping Bear Press (sleepingbearpress.com).
Produced for Big Sea Entertainment by Sarah Grace McCandless. Studio audio engineering by Edgar Diaz. Post-production by Jeremy Brieske at Burst Marketing. Theme music, "Saint State Street," composed by Joshua Gabriel and Bryant Terry.